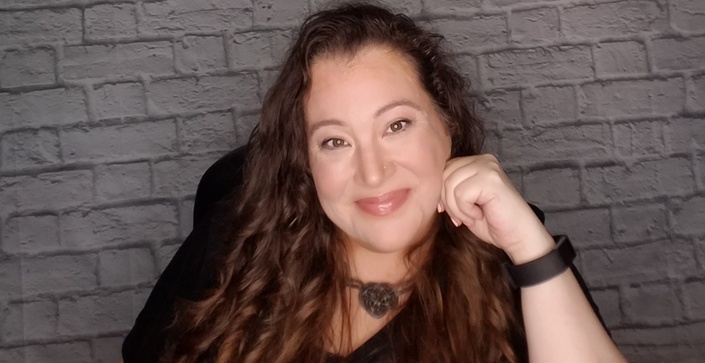 UnLocked Monthly Coaching
No Limits Coaching
Welcome to The Euphoric Life Journey and UnLocked Coaching!
My name is Angelina Borak. I'm a Certified Personal Coach (certified in Relationships, Life, Professional, Spiritual, Hypnotic, and Bereavement) with over a decade of coaching experience. I'm a Disabled Army Veteran. I've been in leadership and executive roles in multiple industries. I've taught at the college level. I graduated magnum cum laude with a Bachelors of Science in Information Technology and Business Administration. I've been published in Medium, YourTango, and my latest book Unlocked: How To Reconnect With Your Authentic Self And Be Happy is available on Amazon.
I created The Euphoric Life Journey to help you with these three areas:
The goal of the Euphoric Life Journey is to help you with these three areas:
Restoration
Restore your Authentic Self by unlocking your Love Locks, toxic core beliefs that prevents you from being your Authentic Self and negatively impacts your reality and relationships. Unlocking your Love Locks is the first step.
Reality
Love Locks negatively impact your day-to-day life. By unlocking your Love Locks, you're creating a better daily life. By creating a better reality now, you'll impact your future in a positive way. Once we've discovered and unlocked your Love Locks, we'll work on creating the right reality for you.
Relationships
Once you've unlocked your Love Locks, the relationships you have with your family, kids, partners, strangers, neighbors, and co-workers get easier and more loving. Part of creating the right reality for you is addressing your relationships and finding ways to make them more loving.

What is a Love Lock?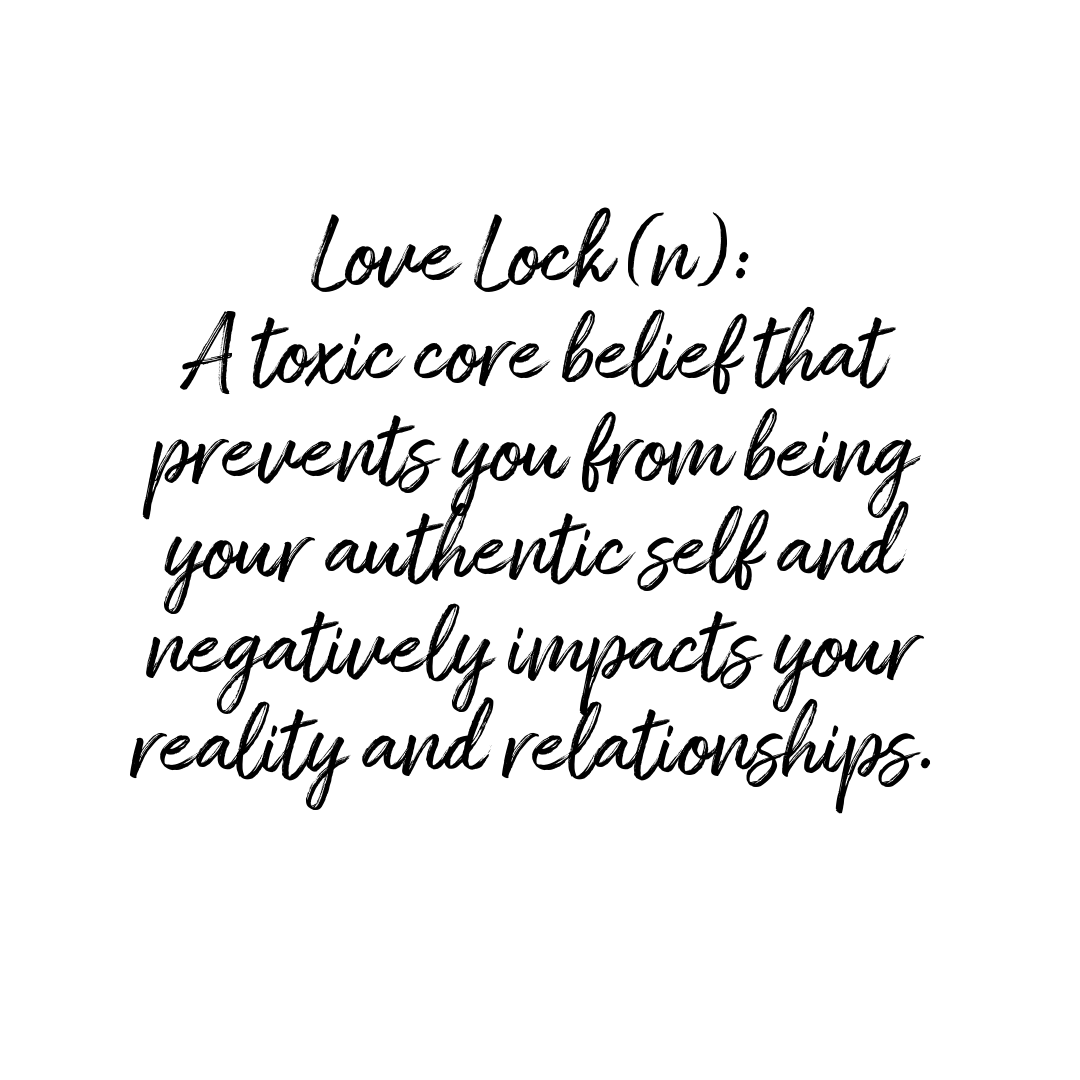 Why Love Locks make it so hard to feel successful in love and life?
Let's talk about a thing I call the Love Lock Cycle which is a recurring cycle that happens in your life and I'm sure you don't know why it keeps happening. The Love Lock Cycle looks a bit like this.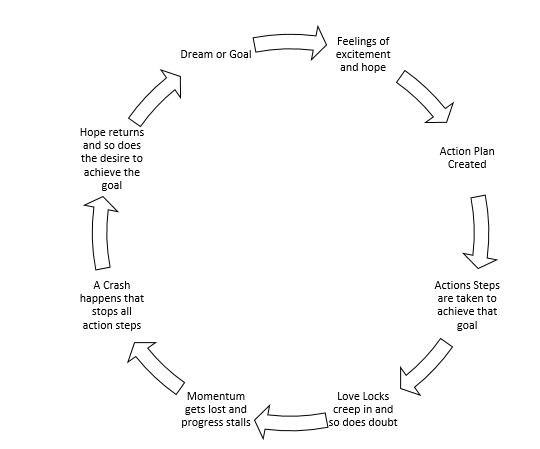 Step One: The Love Lock Cycle starts with a dream, goal, or desire to achieve something.
Step Two: There's a lot of hope, excitement, and desire that explodes from you. You feel that you can conquer the world or at the very least achieve this goal.
Step Three: You develop a plan and start taking action steps to achieve your dream or goal. You're still fueled by all the hope, excitement and desire to make this dream a reality.
Step Four: Somewhere in the middle of this goal attainment process a voices starts to whispers the Love Lock. Before you know it, your Love Lock becomes engaged.
Step Five: That Love Lock keeps whispering to you and eventually it wears you down. You start questioning your ability to achieve this goal and your momentum begins to slow down.
Step Six: Eventually, you put that dream or goal on hold or give up on it.
Step Seven: After a while your dream pulls you back in again or you have a new dream or goal that you'd like to achieve. The Love Lock Cycle starts up all over again.
The problem with this cycle is that it feeds the Love Lock. The more perceived failures that you accumulate the stronger your Love Lock gets.
The Love Lock Cycle gets very painful and you start to shy away from trying because every time you get a new dream it feels like having a bucket of ice water dumped on your head. You experience the excitement of "What if I could make this happen for myself" but you quickly remember all of your perceived past failures. If you go through the Love Lock Cycle enough, you stop trying to achieve goals and just accept that your life is as good as it's going to get.
This Love Lock Cycle can go on for years, decades, or even an entire lifetime.
Let's pause here for a second.
Can you look back and see the Love Lock Cycle in your own life?
Maybe it doesn't happen every time you've tried to achieve something, but it's happened a few times?
Maybe you've got iron will and have made yourself push through this painful cycle?
Now imagine how much easier it would be if you didn't have to work so hard to achieve your dreams.
What if the cycle looked like this instead?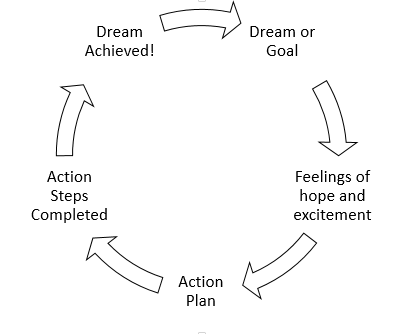 Here's the thing…
You already know what your Love Lock is.
Yet, you've convinced yourself that it's the truth.
You've accepted it.
And now it impacts how you live your life…
This type of coaching goes beyond self-love, mindset, motivation, goal setting, or time management.
This is deep coaching that helps you release years of junk that's stored in your mind and belief system so that you can be your Authentic Self again.
Once you're reconnected to your Authentic Self you can create a better reality and more loving relationships.
UnLocked Monthly Coaching is for you...
if you want to make a commitment to unlocking your Love Locks.
You want help unlocking your Love Locks and improve your reality and relationships. Your ready to set aside time every month to have me help you.
The UnLocked Monthly Coaching and the VIEW Coaching programs are a partnership. We assess where you need help and support. Then I work with you to set up a game plan that will allow you achieve results quickly.
if you want priority scheduling for your coaching appointments.
You want guaranteed time slots every month.
You want to know that you have access to coaching with me each month.
if you want access to all the extra resources such as the Client Resources and the Journey Guide.

Sessions are 50 minutes long and are conducted over the phone.
My clients that unlock their Love Locks see so many benefits.
Here are a few:
They feel strong and positive about themselves.
They're able to do more and achieve more in less time.
They take intelligent risks that payoff.
They finally feel restored and at ease with their Authentic Self.
They create the right reality for themselves.
They find more love and connection in their relationships.
They feel like a huge burden has been lifted from their lives.
They have more time to create opportunities in their lives while thinking clearly without the Love Lock causing chaos.
They're able to handle a lot more with less stress.
They feel like better mothers, friends, partners, and daughters.
They Sleep better at night without worrying so much about external factors.
They release years of anger and frustration about the wrongs in their past.

Bonus: You'll also get the Journey Guide.
The Euphoric Life Journey Guide
This is our command central and the one powerhouse tool that makes a euphoric life possible.

All you have to do is download it, print it, and add it to any binder you choose. Everything has been done for you!
Here's what's included:
Flame Vow
Daily Reminders
Custom Daily To Do List
Weekly Healthy Habits
Weekly Notes
Three Times Two Sheet
Appreciation Plan
The Monthly Schedule
12 Monthly Calendars
2019 Year Calendar
2 Inspiration Pages
Goal Checklist
Weekly menu planning
The Formula Cheat Sheet
Be Prepared Checklist
The Cracked Pot Story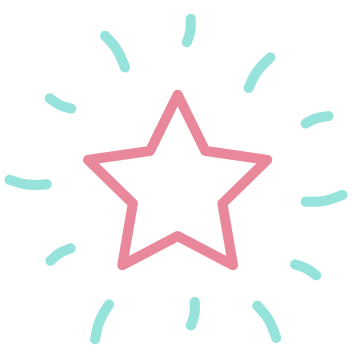 Bonus: You'll also get access to the a huge list of tools that you can use to create your Euphoric Life.
Client Tools
Myers Briggs Test
Love Lock Assessment and Introduction
Personal Strengths Survey
Funk Fix
The Formula
Flame Vow
Re-frame Negative thoughts as a Bad Habit
The Wheel of Life
The Wheel of Personality
Key to creating a life purpose
Finding Values
Defining Your Life
Mean Girl
Archetypes
Basic Brainstorm and Mind Map
Day and Months
Maslow's Hierarchy of Needs
Increase Self-Esteem – Very similar to the appreciation plan
DISCOVERING_OUR_PASSIONS
Coloring Pages
Courses Included with Purchase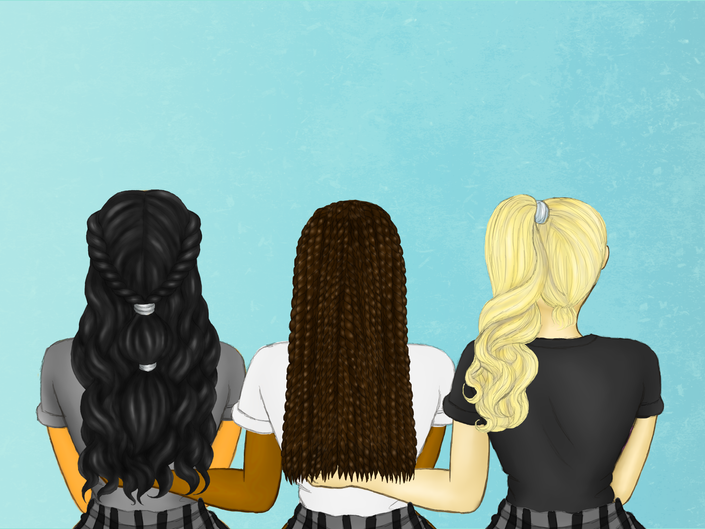 Client Resources
Exercises and activities designed to enhance Coaching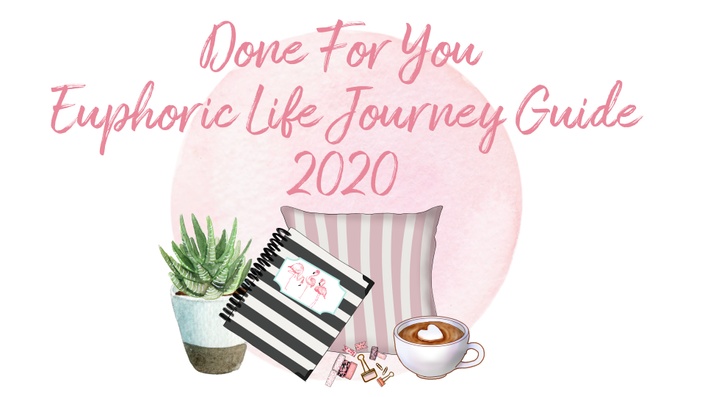 The 2020 Euphoric Life Journey Guide
Printable Guide To Help You Create Your Euphoric Life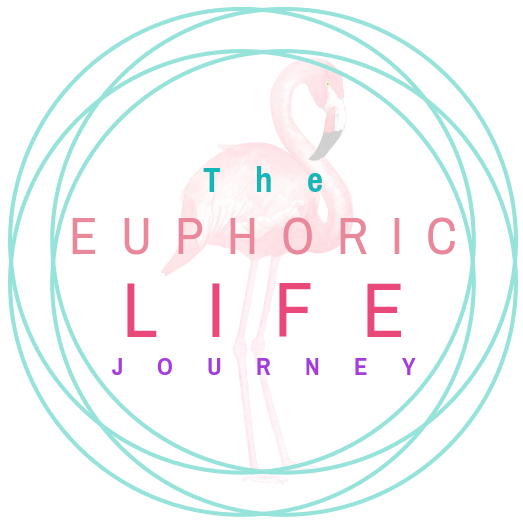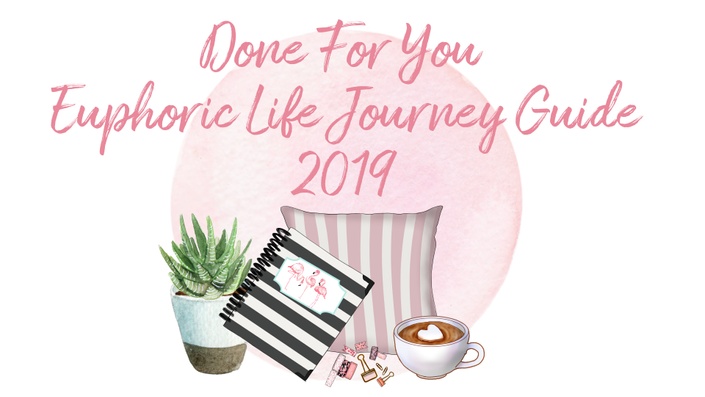 The 2019 Euphoric Life Journey Guide
Printable Guide To Help You Create Your Euphoric Life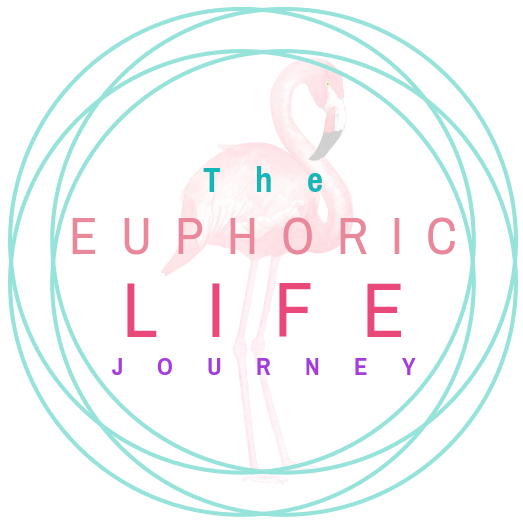 THIS IS WHAT OTHERS HAVE SAID ABOUT
THE EUPHORIC LIFE JOURNEY
I have been working with Angelina over this past year during one of the most difficult times in my life. I know I would have not made the moves I did and got the help and information I needed without her guidance. I honestly think she saved my life in certain respects. Angelina also showed me how to trust my inner voice. I am in awe of her knowledge and I am one of her biggest fans.
LH, recent client
---
I've known Angelina for at least 6 years and I am always impressed with the guidance that comes through her. Not just the words but the energy that is transmitted throughout. I recommend Angelina Borak highly to all my friends.
Jane P., Bevelander, New York
---
For many years now, I have found Angelina Borak's insight very helpful, especially when it comes to how the practical tools that are essential to success. In addition, her knowledge of divorce recovery and beyond is so down to earth that anyone can understand! I can highly recommend her and her courses.
Kay B., Bethesda, MD

---
Angelina Borak's level of service is fantastic. Having been a customer for many years, I am consistently impressed by her professionalism and capabilities. Thank you!

N.W., Irvine, California
---
If I had to choose one word that described my coaching with Angelina, it would be gratitude. Whether life is smooth or rocky, the knowledge that I gain assists my spiritual and relative world journey. Angelina helps me rekindle my awareness and relight my desire to transform my life through my practical application of simple techniques. As I walk through the days of life after The Euphoric Life Journey with Angelina, I feel an overwhelming sense of confidence for whatever I encounter because I've been lovingly prepared and empowered. Thank you, dearest Angelina.

Linda M., Brandon, FL
---
For several years, I'd been leading a sad life after the passing of my only son. I was so alone.No one to share my life. I decided to take a chance and put work into finding a life partner. The hardest part for me was dealing with my fears, but I did it. The Euphoric Life Journey really helped. At first I didn't think anything could work to produce romance. But it did. One day I had a flat tire on the highway. I was really scared as I pulled off to the side.I'd never changed a tire before, and guess what? A kind fellow pulled over and offered to help. Well, one thing led to another and I am now in a strong, committed relationship!

Terri, Astrologer
---
I used The Euphoric Life Journey to turn a leftover life into something that sparkled.I learned how to create the magic in my life, how to actually accept myself, how to make my surroundings part of the support, how to keeps my PEMS essences balanced, and how to troubleshoot when wonky things.This course does it all, more than you ever imagined there was available to learn and do.This course could is the bomb!

Chris, Food Truck Owner
Can I cancel anytime?
Yes, it's a one-click cancellation policy. If you don't LOVE the Euphoric Life Journey, I insist that you cancel. Even though it'll feel like you're breaking up with me, it's best for both of us.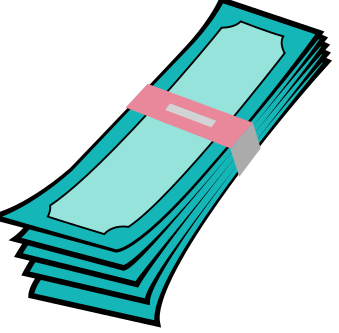 How do I pay for coaching?
You'll be asked to register when you click that enroll button and then you can pay with your credit card.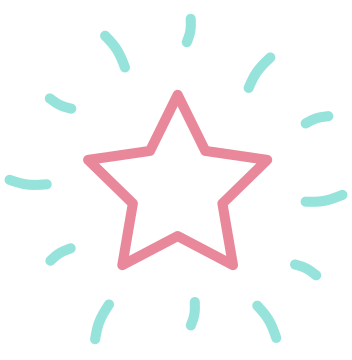 Can I talk to you before I purchase coaching sessions?

Sure, send me an email at [email protected] and we'll take it from there.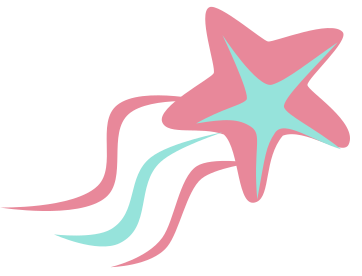 Why should I buy it? I'm already doing the FREE Euphoric Life Journey email group.
Because coaching creates more awareness, more transformation, and an even more euphoric life...FASTER. Coaching is completely customized to your particular Love Locks, goals, and needs.
Your Instructor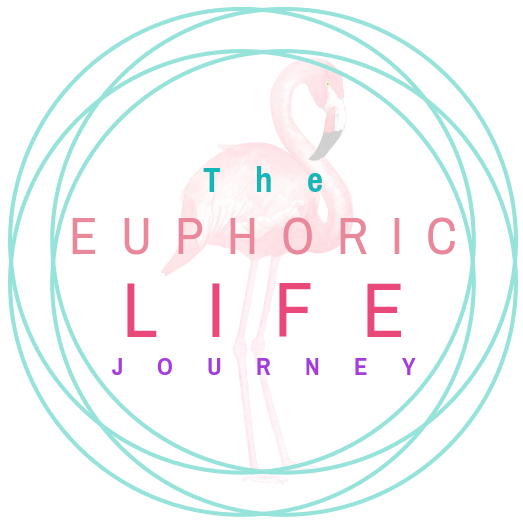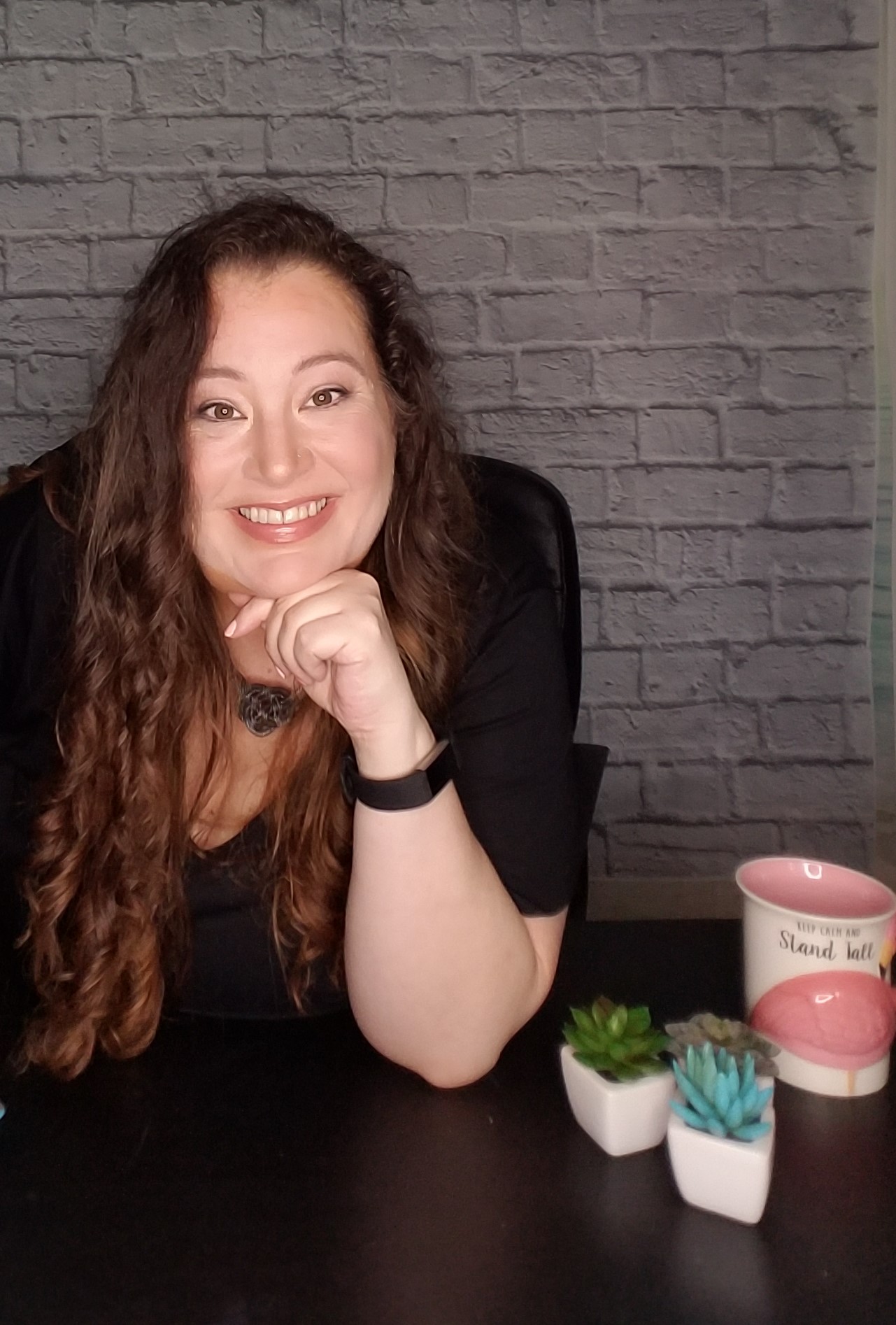 I'm Angelina.

I'm a Hallmark loving Disabled Army Veteran who has been an executive in multiple industries, I've taught at the college level, and I'm a certified coach (certified in Relationships, Life, Professional, Spiritual, Hypnotic, and Bereavement) for the last 10 years.
I've supported hundreds of women create their euphoric life.